The First IVF Clinic in North Cyprus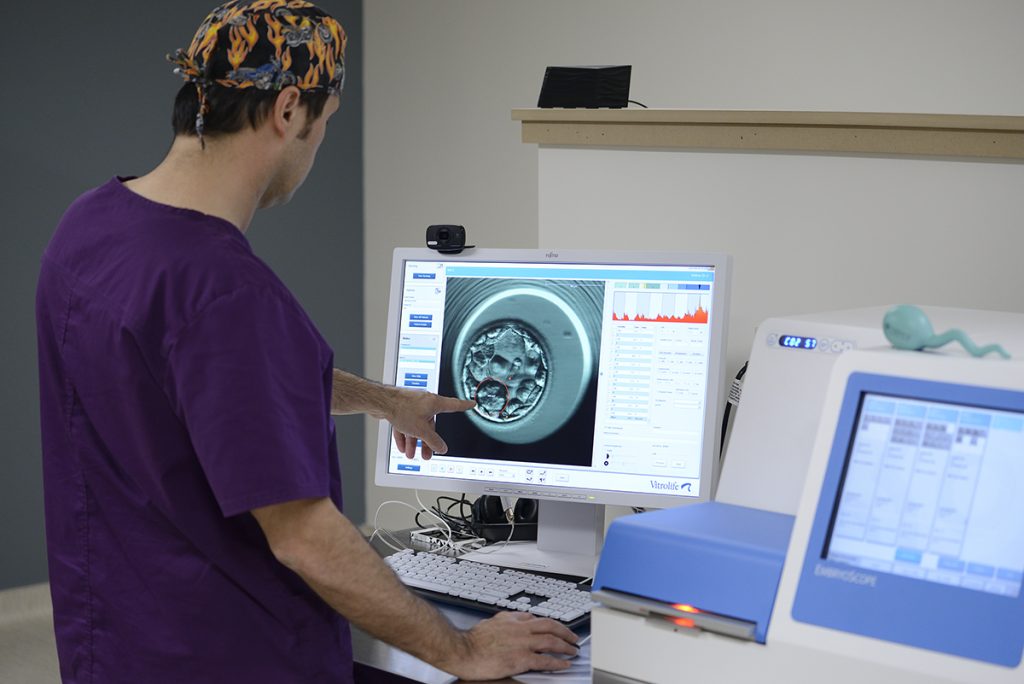 We are the first IVF clinic in North Cyprus offering fertility preservation (social freezing), egg donation, sperm donation, pre-implantation genetic diagnosis and gender selection. Learn more about our treatments by clicking here.
IVF is a method of assisted reproduction that involves injecting eggs with sperm in a laboratory. Women are given ovulation-stimulating drugs and are monitored with ultrasounds.
Embryo Transfer
Once the eggs are fertilized, a pre-filled catheter is used to transfer them into the woman's uterus. The procedure takes place on day three or five after egg retrieval and can be done using fresh or frozen embryos. Using frozen embryos can increase the pregnancy rate.
Embryo transfer is pain free and does not require sedation. It feels similar to a pap smear and only lasts for 15-20 minutes. A speculum is inserted, the cervix is washed and then a catheter is passed through the cervix into the uterus.
The embryos are then placed in the uterus with a special needle and ultrasound for visualization. The woman can feel a slight twinge when the embryos are transferred but it is painless. Any remaining healthy embryos are then frozen for future use.
Embryo Donation
Embryo donation can be used by couples who can't conceive with their own eggs and sperm. Embryo-sharing can also be used to increase the success rates of an IVF procedure. This treatment involves the transfer of fresh embryos that are created from the patient's own eggs and those of a donor.
Donor egg and sperm donation is anonymous in Cyprus. The procedure begins with oocyte pick up (egg collection) on day zero, followed by fertilization with donor sperm and embryo transfer on days 3 or 5 of development.
This procedure requires you to be in Cyprus for 3-5 days. The best time to visit is during the holidays, when you can enjoy North Cyprus's beautiful scenery and historical sites such as Famagusta walled city and Salamis ruins.
Pre-implantation Genetic Diagnosis (PGD)
PGD is performed to test for chromosomal defects or monogenic diseases (disorders caused by one gene). It also tests for unbalanced genetic translocations. It allows couples to identify embryos with abnormal chromosomes that are unlikely to result in successful implantation and to avoid the transfer of diseased embryos.
This method uses PCR or FISH for testing the chromosomes of a single embryo to determine whether it is normal or aneuploid. The actual analysis is very fast compared to other testing methods, and the results can be obtained within 48 hours from the time of sampling.
It also allows couples to choose the gender of their child, although some clinics only allow sex selection for family balancing. This method is very effective for reducing the risk of multiple pregnancy and birth, and can significantly increase the success rate of IVF applications.
Sperm Sorting
Preimplantation genetic screening (PGS) is a process in IVF that allows couples to choose sperm or eggs with the desired gender. This can increase IVF success rates and decrease the chance of miscarriage. The PGS test also identifies embryos with chromosomal abnormalities, such as severe male factor infertility or a genetically inheritable X-linked disease, such as hemophilia.
Dunya IVF clinic in North Cyprus is the only official MicroSort partner clinic in Europe, Middle East and Africa. This technology enables couples to select sperm with the desired sex through a chromatin sorting method known as "swim-up." This technique separates sperm into X and Y chromosome bearing cells, so that only sperm carrying the sex of interest are used for fertilization. This can prevent the transmission of X-linked diseases such as hemophilia and Duchenne muscular dystrophy.
Gender Selection
Gender selection is a medical procedure that allows parents to choose the sex of their child. This can help prevent genetic diseases that may be passed from one parent to the other.
The process begins with ovarian stimulation, which usually takes between 8 and 12 days on average. After that, the doctor will inject the patient with hCG to trigger egg collection.
The eggs are then collected through a minimally invasive procedure that inflicts no pain. They are then fused with sperm using the micro-injection technique called ICSI. Once they reach the embryo stage, they are examined for chromosomal abnormalities. The embryos with normal chromosomes are then transferred to the uterus. The remainder are frozen for future cycles. Gender selection is available for patients with specific health concerns and for family balancing purposes.cyprus ivf